Featured product
Biba und die Weihnachtszeit
Regular price

Sale price

$22.00 USD
Tax included.
Nach einem herrlichen Sommer beginnen für den Inselhasen Biba und seine Freunden die Vorbereitungen auf Weihnachten. Gemeinsam erleben die Kameraden eine wundervolle Vorweihnachtszeit und feiern natürlich auch das Luciafest. Am Ende verbringen sie den gemütlichen Weihnachtsabend in lustiger Runde

Featured product
Biba's Christmas
Regular price

Sale price

$22.00 USD
Tax included.
After a fantastic summer Biba and his friends start preparing for Christmas. They all thoroughly enjoy the days before the real festivities begin and naturally celebrate St. Lucia's Day too. On Christmas Eve they get together again and the merry group has a fabulous time
Featured product
Biba i Juletiden
Regular price

Sale price

$22.00 USD
Tax included.
Efter en skøn sommer begynder øharen Biba og vennerne at forberede sig på julen. Dyrene oplever en hyggelig tid sammen i ugerne op til jul og fejrer selvfølgelig også Luciafesten. Sidst, men ikke mindst holder de en festlig juleaften i muntert selskab med hinanden

Über uns: die Biba-Familie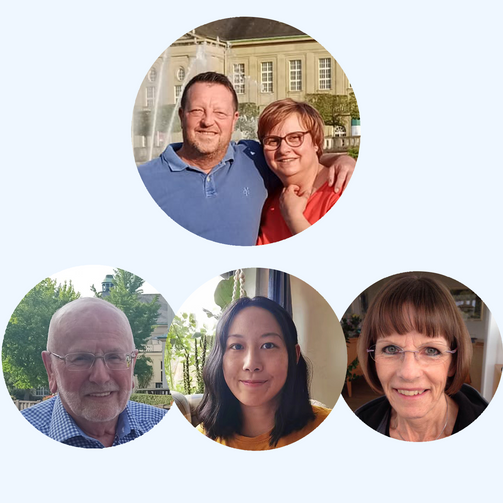 Deutsch:
Wir sind Thomas und Angelika Bernhardt, geb. 1968 und 1969, und lieben tolle Geschichten für Kinder - sowie das wunderbare Land Dänemark. Gemeinsam mit unseren Kindern Ben und Bastian haben wir unserer Fantasie freien Lauf gelassen und dieses Buch über das abenteurerreiche Leben des Hasen Biba und seiner Freunde auf einer dänischen Insel geschrieben und wünschen uns, dass ihr Erwachsene und Kinder zusammen mit uns in diese wunderbare Welt eintaucht.
Inspiriert für Kindergeschichten wurde ich, Thomas, bereits von meinem Vater durch von ihm frei erfundene Erzählungen, die noch heute in meinem Gedächtnis vorkommen. Als ich dann selbst Vater wurde, tat ich es ihm gleich. Meine Jungs liebten diese und spannen sie regelrecht weiter. Aus dieser Leidenschaft ist die Idee entstanden, die während zahlreicher verbrachter Ferien in Dänemark erzählten Geschichten und gemachten Beobachtungen der vielfältigen Tierwelt zum Buch zu machen.
Neben dem Sammeln und Ausarbeiten von Ideen konnte ich, Angelika, als Übersetzerin durch die sprachliche Umsetzung der gesammelten Erzählungen meinen Teil zur Realisierung des Buches beitragen.
Zu unserem Glück stießen wir auf die talentierte Illustratorin Dan Wang, geb. 1993 in Peking. Sie setzte unsere Ideen über die traumhafte Landschaft und dessen tierische Bewohner mit ihren fantasievollen Zeichnungen in einer Art und Weise um, als ob sie selbst Teil der Abenteuer von Biba gewesen wäre.
Was wären die Biba-Bücher ohne unsere kompetenten Übersetzer, die unsere Geschichten nach Dänemark und in die englischsprachigen Länder tragen? 
Zu uns zählen zwei wunderbare Senioren, die gerne unsere Biba-Bücher in ihre Muttersprache übersetzen. Beide sind für uns äußerst wichtig, da sie die kindgerechte Sprache mit allen Nuancen der ausländischen Sprachen beachten. Sowohl ihre Anregungen als auch ihr Witz fließen ständig auch in unsere Geschichten ein.
Zum einen ist da Douglas Dashwood-Howard, der im englischen Ludham geboren wurde und bereits seit über 50 Jahren in Deutschland lebt. Als Autor von Büchern über die Geschichte seiner Wahlheimat hat er nun Freude an der Übersetzung unserer Kinderbücher gefunden.
Dann gibt es Monika Dalby, die aus Innsbruck/Tirol stammt und seit über 50 Jahren in Dänemark wohnt. Sie ist für uns eine sehr große Hilfe, da sie natürlich alle dänischen Traditionen kennt und lebt. Auch sie hat die Lust und Liebe am Übersetzen unserer Biba-Reihe entdeckt.
English:
We are Thomas and Angelika Bernhardt, born in 1968 and 1969 respectively. We not only love fantastic children's stories but the wonderful country of Denmark too. Together with our children Ben and Bastian we let our imagination run wild and wrote this book about the adventurous life of the hare Biba and his friends on a Danish island. We hope that you, adults and children alike, will join us and immerse yourselves into this wonderful world.
Thomas was already inspired by the children's stories he had been told by his father and which he can still recall to this day. When he became a father himself, he continued what had meanwhile had become a tradition. His boys loved the stories and even made up their own continuations. This led to the idea of putting the stories we had been told during our many holidays in Denmark into book-form and to include our own observations of the country's varied animal life.
Angelika's contribution was to collect and process our countless ideas and, as a professional translator, to help realize the stories for the German editions of the books.
Fortunately we had the luck to come across the talented illustrator Dan Wang who was born in Beijing in 1993. Her imaginative and attractive illustrations have really brought to life our recollections of beautiful scenery and abundant fauna. Indeed it almost seems as if she had actually accompanied Biba on his adventures.
What would the Biba books be without our competent translators who bring our stories to Denmark and English-speaking countries?
We have two wonderful senior citizens who enjoy translating our Biba books into their mother tongues. They are both so important to us as they ensure that the children's language we use is equally suitable when translated into a foreign language with all its nuances. We also frequently incorporate their ideas and humour into our books.
There is Douglas Dashwood-Howard who was born in Ludham, England, and has lived in Germany for more than 50 years. As an author of books on the history of Sennfeld, the village in which he lives, he now enjoys translating our children's books.
Then there is Monika Dalby who comes from Innsbruck/Tyrol. Having lived in Denmark for over 50 years, she is a great help to us as she is familiar with all the Danish customs and traditions. She too has discovered the enjoyment of translating our Biba series.
Dansk:
Vi er Thomas og Angelika Bernhardt, født i 1968 og 1969, og vi elsker at fortælle spændende historier til børn, men vi holder også meget af det skønne Danmark. Sammen med vores egne børn, Ben og Bastian, har vi ladet fantasien løbe frit og skrevet denne bog om haren Biba og hans venners eventyrlige liv på en dansk ø. Det er vores ønske, at I voksne og børn sammen med os dykker ned i denne vidunderlige verden.
Jeg, Thomas, blev inspireret af børnehistorier allerede som barn gennem
min fars frit opdigtede fortællinger, som jeg stadig har i min hukommelse. Da jeg senere selv blev far, gjorde jeg lige som ham. Mine egne drenge elskede disse historier og de ligefrem digtede videre selv. Denne lidenskab førte til en ide om,  at samle alle historier og iagttagelser af den mangfoldige dyreverden, som vi oplevede under vores talrige ferieophold i Danmark til en bog.
Mens jeg indsamlede og bearbejdede disse ideer, kunne jeg, Angelika, som er uddannet translatør, tilrette de indsamlede fortællinger sprogligt og bidrage til at realisere udgivelse af bogen.
Til vores held mødte vi den meget talentfulde kvindelige illustrator Dan Wang, født 1993 i Peking. Hun kunne omsætte vores ideer omkring det vidunderlige landskab og de forskellige dyr i fantasifulde tegninger på en måde, som om hun selv var den del af Bibas eventyr.
Hvad ville Biba bøgerne være uden kompetente oversættere, som også bringer vores historier til Danmark og til de engelsksprogede lande.
En del af vores team tæller to skønne seniorer, som gerne oversætter vores Biba bøger til deres modersmål.
Begge to er særdeles vigtige for os, idet de er opmærksomme på et børnevenligt og samtidig nuanceret sprog.
Deres ideer og humor indgår tit i vores historier.
Her har vi Douglas Dashwood-Howard, som er født i det engelske  Ludham, og har boet i Tyskland i mere end 50 år.  Som forfatter af bøger, der fortæller historien om hans hjemstavn, har han nu fundet glæde i at oversætte vores børnebøger.
Og så er der Monika Dalby, som oprindeligt kommer fra Innsbruck/Tyrol
og har boet i Danmark i mere end 50 år. Hun er en stor hjælp for os, da hun
selvfølgelig kender de danske traditioner godt og oplever dem i det daglige. Hun har fundet meget lyst og fornøjelse i at 
oversætte vores Biba serie.